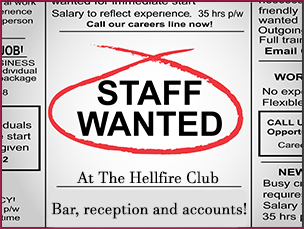 Bar, Reception & Bookkeeper Roles
If you have the personality & skills we need, come and join us in a job that is fun, rewarding and never boring!
Flexible shifts, Free parking, safe and fun working environment.
If you are interested in working at
The Hellfire Club, contact us at:
Please include a description of yourself and a detailed CV, indicate the job(s) you are interested in and attach a recent digital photograph. You must have experience in the employment you are seeking, apart from bar staff and live within 20 minutes of the Club.
We can train inexperienced bar staff, but your CV should indicate significant work experience elswhere.
The minimum age for applicants is 20
Those with some experience in Swinging or Fetish are preferable; however it is NOT a prerequisite. Staff must have a relaxed attitude to sexual activity; however you will never be asked to participate and indeed; staff are not permitted to take part in the Club activities.
We conform with all GPDR legislation regarding your data.
There are many applicants and therefore, if you do not attach a CV, we cannot respond.
WE ARE EXPANDING & NEED ENTHUSIASTIC, RELIABLE STAFF. IN RETURN, WE OFFER THE HIGHEST PAY RATES AND A FUN, FRIENDLY WORK ENVIRONMENT!